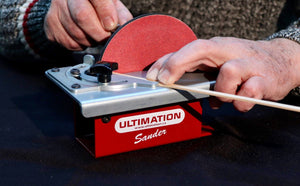 Sander
Sale price Price $225.00 USD Regular price
The Ultimation Sander is a precision hand powered disc sander for model makers.
Ideal for building model railways, model boats, model planes, or doll house miniatures. The hand powered disc allows precise control of sanding speed for more accurate stock removal, giving you consistently perfect results.
Save time, and save material. Works equally well on wood, styrene, brass, or nickel silver.
Sander Features:
Repeatable accuracy within 1/2 degree
Rubber edge disc for fingertip control
Default 90 degrees, perfect right angle every time
Can be easily bolted down, or clamped to work surface
All angles are factory set, but can be realigned if necessary
If you need multiple pieces made exactly the same, check out the NEW Repeater Add-On Tool 
The Ultimation Sander is Made in Canada.
"FREE" Expedited Shipping to the United States and Canada.
For shipping outside of North America, please contact us at info@ultimation.ca